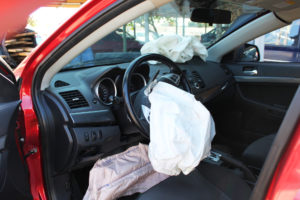 When you are involved in a car accident because of a defective airbag, the stress from the injuries you sustained can be difficult enough, but the stress trying to deal with pursuing a car accident claim can really be overwhelming. As difficult as it may be, especially if you have sustained serious injuries, it is important to stay as calm as you can and take the right steps to protect your rights in order to receive the financial compensation you deserve. An airbag lawyer in Denver, CO from the Law Office of Richard J Banta, P.C. can help.
The following steps are important to keep in mind as you go through the personal injury legal process after your car accident:
Make sure to visit your doctor right away: Even if you don't think you have been injured or your injuries are minor, it is important to consult with a doctor right away. It is not uncommon for symptoms of injuries to not show for days or even weeks following a crash. This is especially true in crashes involving defective airbags.

Collect evidence from your crash: Your airbag accident lawyer in Denver CO will use evidence to build a case in order to get you the financial compensation you are entitled to. There is certain evidence that a victim should obtain which will help in this process. If the incident you were injured in involved any other vehicles, make sure to obtain the driver or drivers' name, contact information, license and registration numbers, and vehicle insurance information. Victims should also take photographs of the scene of the incident, including damage to vehicles. Photographs of injuries should also be included.

Do not accept quick settlement offers: It is not uncommon for insurance companies to offer a victim a quick settlement in an attempt to avoid paying the victim the true value of their damages. Make sure to contact a Denver CO airbag accident attorney before you have any discussions with the insurance company to make sure your rights are protected.
A car accident lawyer Denver CO clients recommend understands just how complex these cases can be and have the legal expertise to negotiate with the insurance companies. Without a lawyer advocating for you, you could end up with far less in financial compensation than what you should receive.
Contact Our Denver CO Airbag Accident Lawyer
If you have been in a car accident, contact an airbag accident lawyer Denver CO victims turn to from the Law Office of Richard J Banta, P.C. Call our office to schedule a free and confidential case evaluation and find out how our legal team can help ensure your rights are protected and you get the financial compensation you deserve.