Your Rights as a Pedestrian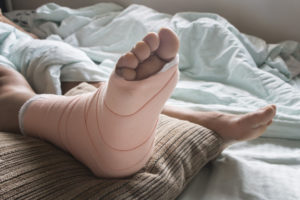 As a pedestrian accident lawyer Denver, Colorado victims turn to for help can tell you, pedestrians are vulnerable to being hit by vehicles with catastrophic results. If this describes you, you might be suffering a number of serious injuries. Contact the Law Office of Richard J. Banta, P.C. at 303-331-3415 to request a free consultation with a respected Denver Colorado pedestrian accident lawyer. We may be able to help you recover your damages from the driver who hit you.
Your Rights
It is important to know your rights as a pedestrian. Below are answers to some of the most frequently asked questions a pedestrian accident lawyer in Denver, CO receives from victims. We encourage you to contact a pedestrian accident lawyer Denver CO locals recommend, Richard J. Banta, P.C., if you have further questions or concerns.
#1 – Do Pedestrians Have Right of Way?
Yes and No. Pedestrians usually have the right of way when at intersections and crosswalks. However, a pedestrian cannot unnecessarily halt or delay traffic while walking in an unmarked or marked crossway.
#2 – Do Cars Always Have to Stop or Yield to Pedestrian in a Crosswalk?
Yes. When a person is in a crosswalk they have the right of way and cars must stop. If a car does not stop and allow you to cross to the other side, they are not only endangering you but are also breaking the law. If this happens, many people decide to report the driver to law enforcement. Contact a pedestrian accident lawyer Denver Colorado offers to explore your legal options.
#3 – If You Hit a Jaywalker, Are You Are At Fault?
This is a tricky scenario, and it depends on the situation. Of course, it is highly likely that more damage will be caused to a person than the car in a pedestrian accident. However, if you hit someone walking outside of a pedestrian area then they may be held partially responsible for the accident and their resulting injuries. If you choose to consult a pedestrian accident lawyer Denver, CO residents rely on, they can review your case to determine the extent of your responsibility.
#4 – If Hit By a Car, Should a Pedestrian Sue the Driver?
You may have a valid claim against the driver for the repayment of:
Hospital bills

Emergency care

Treatment costs

X-rays

Surgery

Blood work

Loss of enjoyment of life

Emotional distress

Property damage

Loss of pay due to missing work

Pain and suffering
The enjoyment of walking can be taken for granted and is one of the most defining attributes of what it means to be a human being. Walking can also offer a low cost and sustainable way of transportation. Many also find it fun and it can offer fitness benefits and encourage social interactions within your community.
Unfortunately, the dangers of people and cars sharing the road can be disastrous for a pedestrian. Even if you are only an occasional walker, know your rights so you can handle yourself in accordance with the law and observe when a driver is acting negligently. Refer to a pedestrian accident lawyer in Denver, CO if you have been injured by an automobile driver.
Hit-and-Run Accidents: A National Epidemic
A Denver, CO pedestrian accident lawyer understands that one of the most traumatic types of accidents is a hit and run. Friends and family are left wondering why a driver never stopped to help an injured victim. What kind of person, or what circumstances, would make a driver responsible for a horrific crash flee from the scene?
A hit and run accident is defined as a driver hitting another car, house, or pedestrian and leaving the scene of the crime without providing any form of identification or aid to those injured, as an auto or pedestrian accident lawyer Denver, CO trusts can explain.
Pedestrians can be sitting ducks on and around streets, especially in big cities in our nation's car dependent culture. There are approximately 5,000 pedestrians killed and an estimated 76,000 injured in traffic crashes each year in the United States. On average, a pedestrian is killed every two hours and injured every seven minutes in traffic crashes. Statistics reveal hit and run accidents to be the second highest types of pedestrian accidents.
The National Highway Traffic and Safety Administration crash data show that the number of fatal hit-and-run crashes is steadily trending upward. One in five pedestrian fatalities are a hit and run which equates to eighteen percent of all pedestrian deaths.
In some cities, like Los Angeles and New York, hit-and-run crashes are now at epidemic proportions. Pedestrians have a right to share the roads and they, too, are expected to obey traffic rules and signs. When they get hurt, and a driver flees, a very distressing situation arises. But thanks to effective law enforcement and the increased presence of video surveillance, the reckless drivers are often apprehended.
A little over four percent of these accidents result in severe injuries, or even death. Hit-and-runs are a criminal offense in every state in America. Failure to stop after hitting another person's property can be deemed as a felony and ultimately lead to jail time, extensive fines or a combination of both.
Where does that leave the victim? What are their legal options or those of their family if the victim dies from their injuries? Retaining a pedestrian accident lawyer in Denver CO is a victim's best chance of obtaining the financial compensation they may be entitled to under the law.
Tips for Pedestrians to Help Prevent Getting Hit by a Car
There are many things a driver may be doing besides paying attention to the road, including using a cell phone, fidgeting with the radio, talking with the passenger, daydreaming or falling asleep. Those who travel on foot must be careful before crossing at small or large intersections, whether in residential areas or busy city streets. If an accident between a car and pedestrian were to unfold, the pedestrian may sustain with injuries that require prompt medical intervention.
To help prevent getting hit by a car, a pedestrians should consider the following information provided the next time they go out traveling with their own two feet:
Q: It is okay that I use headphones as I walk where I need to go?
A: Many people use walking as a form of transportation when getting to work, class, errands, or somewhere else. It can be enjoyable for many pedestrians to plug in headphones and listen to music as they take a walk. The only risk with using earbuds, is that it can prevent you from hearing alerts in the environment.
For example, if you are crossing the street and don't hear a car approaching, you may not be able to jump out of the way fast enough. At the very least, consider taking headphones out when crossing at intersections so you can use both sight and hearing to watch out for cars.
Q: Does it matter what shoes I'm wearing?
A: The shoes a pedestrian may wear can be a reflection of their style and personality. If you have to travel on foot, you may want to opt for more comfortable shoes that enable you to move quickly if needed. However, just because a person decides to wear not-so-flexible shoes while walking doesn't mean he or she is responsible for a car accident if it happens. Instead, by wearing more agile shoes, it can help you get out of the way in those very few important seconds between when you see the car approaching and the moment of impact.
Q: If it's my right-of-way but I see a car fast approaching, should I proceed?
A: Even if it is your turn to cross at a street, never assume the driver has seen you and won't run the red light. It may be best to wait until you see the driver slow down, make eye contact with you, and even gesture for you to cross. A driver that is coming up to a light a little faster than he or she should be, may either be planning to slam on his or her breaks, or is distracted and doesn't see the light ahead. Don't take the risk just because it is your turn to go, wait to see what the speedy driver is going to do before crossing.
Remember, if you have been hurt in an accident with a vehicle while walking, contact Richard J. Banta, P.C. — a reliable, competent, and experienced pedestrian accident lawyer in Denver, CO.
Typical Profile of a Hit and Run Driver
According to the U.S. Department of Transportation, hit and run crashes occur predominantly during nighttime hours and appear to correlate with the incidence of drinking and driving. Law enforcement is well aware that many drivers flee the scene of a nighttime crash to conceal their alcohol-impairment.
Studies of hit and run crashes also found that these incidents occur most often on weekends and during the evening. Alcohol again is the common denominator in most of the accidents.  A pedestrian accident lawyer in Denver CO knows that drivers are also more likely to run if they feel there is a reason to do. Some of the other common reasons include driving without a license, registration or insurance, or the driver has a previous traffic violation. Very young and inexperienced drivers tend to panic and leave the scene.
Drivers will often surreptitiously try and get bodywork repairs done or paint their vehicle a different color to avoid being caught. This is why witness identification and license plate information are so important in helping to apprehend the driver.
Injured pedestrians may sustain broken bones, internal organ damage, or traumatic brain injuries. If a driver flees the scene, a victim's treatable injury could become fatal. In fact, mortality rates for older pedestrians are three times those of adults.
Colorado laws outline what the driver should do if they find themselves in a situation where they have hit a person with their vehicle. This includes remaining at the scene, rendering aid, and providing information to first responders and law enforcement. Should a driver violate any of the legal requirements, they could be charged with a criminal offense.  
What to Do
A car or pedestrian accident lawyer Denver CO can count on will likely tell you that the very first thing that you need to do is write down or take pictures of as many details as you can remember about the other driver and their vehicle. This is certainly true at the offices of Richard J. Banta, P.C. The color, model, make, license plate number or even a description of what the driver looked like or was wearing can help. If any witnesses are present, you should ask for their contact info and what they saw. You can have them write up a testimony by hand and sign and date the document.
After this, you should immediately call the police. Because a hit and run is a serious criminal offense, obtaining a police report and giving all the details you have about the accident, other driver, and other vehicle will help create this. When you work with law enforcement after a hit and run accident, your chances of finding the other driver increases by a lot. In the event that police do not find the driver that hit you, you will have to file a claim on your insurance policy in order to receive recovery damages.
Thankfully, many insurance companies will waive off any kind of collision deductible with hit and run occurrences, because the client is not to blame, as a respected auto and pedestrian accident lawyer Denver CO trusts can attest. It is not advised that you wait for law enforcement to find the guilty driver, because that may never happen. So you should contact your insurance provider immediately after talking with police and let them know about your hit and run so the claim process can begin right away.
Contact a Denver CO Pedestrian Accident Lawyer
Getting through a hit and run accident can be extremely tiresome and overwhelming, because you alone in dealing with the damages that a negligent driver caused. However, you should consider contacting a personal injury or pedestrian accident lawyer Denver CO residents turn to, to help improve your prospective outcome.
If the worst does happen and you or a family member has been injured because of a hit and run driver, having a pedestrian accident lawyer Denver CO clients recommend advocating for you is crucial. The Law Office of Richard J. Banta, P.C. is a firm you can depend on for effective legal representation. We have pedestrian accident lawyers who have extensive experience in litigating cases. We understand the process, what documentation and evidentiary requirements exist, and what damages to which you may be entitled. Call the experienced Denver Colorado pedestrian accident lawyer team at Richard J. Banta, P.C. today for a free consultation.