Medical Malpractice Lawyer Denver, CO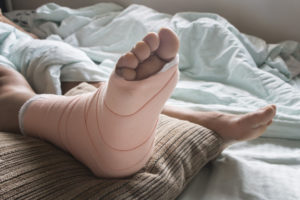 At the Law Office of Richard J. Banta, P.C., we believe medical providers should be accountable for their actions and adhere to the standards of medical care they owe their patients and their profession. If there are breaches of these standards, we advocate for the victims of the malpractice or negligence.
Medical malpractice law offers patients the opportunity to recover compensation for injuries that are a result of sub-standard treatment. As a medical malpractice lawyer Denver, CO residents trust, we have a thorough understanding of medical malpractice law and how it applies to the various forms of medical negligence and wrongdoing.
With decades of experience in helping victims of medical malpractice receive the compensation they are due, we can compose an effective lawsuit against healthcare practitioners whose actions don't satisfy the acceptable level of care.
For a consultation with a medical malpractice lawyer in Denver, Colorado, please call the Law Office of Richard J. Banta, P.C.
What Is Medical Malpractice?
Medical professionals have an obligation and duty to provide a standard level of care to the patients they treat. Despite this,  medical malpractice is increasingly common. A medical malpractice lawsuit can be challenging and working with a qualified and credentialed  medical malpractice lawyer Denver, CO has to offer may increase your chances of a favorable outcome.
Patients can experience a wide range of medical malpractice situations, including those involving:
Birth and delivery injuries
Failure to diagnose
Misdiagnoses
Emergency room errors
Cerebral palsy; Erb's palsy
Surgical errors
Hospital negligence
Medication errors
Nursing malpractice
Anesthesia errors
Bacterial infections
Hospital freezer malfunction
Misdiagnoses
Unnecessary surgeries
Hospital freezer malfunction
Not all harm resulting from a healthcare provider's error is grounds for a medical malpractice action. To find out whether or not your circumstances justify a medical malpractice suit, you can meet with one of a  medical malpractice lawyer Denver, CO provides to discuss the specifics.
Will a Medical Malpractice Case Go to Court?
Medical malpractice cases don't always go to court. At times, a case may be settled outside of court. Most physicians and healthcare institutions have medical malpractice insurance to cover cases if they should arise. If both sides can agree on a settlement, a court case may be unnecessary.
Settling outside of court is sometimes preferable as it allows the medical malpractice victim to receive compensation more quickly. Plus, it can cut down on legal fees and time spent on a case going to court. Furthermore, if the action is settled quickly, the victim can turn their focus back toward their health and tend to recovering from their injuries.
In the event of a death from medical malpractice, a lawyer might advise you to file a wrongful death suit over a personal injury claim. These types of cases are similar, but do have differences in what you can recover. A wrongful death lawyer Denver, CO families turn to after a death from medical malpractice can help you to determine which type of case is best suited to your needs.
Why Hire a Medical Malpractice Attorney?
If you believe that your treatment under the care of a physician has been negligent or wrongfully prescribed, contact the Law Office of Richard J. Banta, P.C., today. We are an experienced medical negligence law firm, and, if you work with us, we will be ready to go the extra mile to ensure you are granted the decision and compensation you deserve for enduring malpractice-related pain and suffering.
Victims of medical malpractice who file lawsuits may receive settlements that compensate them for loss of income, loss of future earning potential, loss of enjoyment of life, medical expenses, physical and mental suffering, and more. Your medical malpractice lawyer Denver, CO community members count on for help can ensure all of the details of your unique circumstances are addressed so that you can receive an optimal resolution. Contact us today for a consultation.