Medical Malpractice Lawyer Denver, CO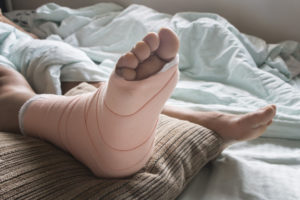 At the Law Office of Richard J. Banta, P.C., we believe medical providers should be accountable for their actions and adhere to the standards of medical care they owe their patients and their profession. If there are breaches of these standards, we advocate for the victims of malpractice or negligence.
Medical malpractice law offers patients the opportunity to recover compensation for injuries that are a result of sub-standard treatment. As a medical malpractice lawyer Denver, CO residents trust, we have a thorough understanding of medical malpractice law and how it applies to the various forms of medical negligence and wrongdoing.
With decades of experience in helping victims of medical malpractice receive the compensation they are due, we can compose an effective lawsuit against healthcare practitioners whose actions don't satisfy the acceptable level of care.
For a consultation with a medical malpractice lawyer in Denver, Colorado, please call the Law Office of Richard J. Banta, P.C.
What Is Medical Malpractice?
Medical professionals have an obligation and duty to provide a standard level of care to the patients they treat. Despite this,  medical malpractice is increasingly common. A medical malpractice lawsuit can be challenging and working with a qualified and credentialed medical malpractice lawyer Denver, CO has to offer may increase your chances of a favorable outcome.
Patients can experience a wide range of medical malpractice situations, including those involving:
Birth and delivery injuries
Cerebral palsy; Erb's palsy
Hospital freezer malfunction
Hospital freezer malfunction
Not all harm resulting from a healthcare provider's error is grounds for a medical malpractice action. To find out whether or not your circumstances justify a medical malpractice suit, you can meet with one of a medical malpractice lawyer Denver, CO provides to discuss the specifics.
Will a Medical Malpractice Case Go to Court?
Medical malpractice cases don't always go to court. At times, a case may be settled outside of court. Most physicians and healthcare institutions have medical malpractice insurance to cover cases if they should arise. If both sides can agree on a settlement, a court case may be unnecessary.
Settling outside of court is sometimes preferable as it allows the medical malpractice victim to receive compensation more quickly. Plus, it can cut down on legal fees and time spent on a case going to court. Furthermore, if the action is settled quickly, the victim can turn their focus back toward their health and tend to recover from their injuries.
In the event of a death from medical malpractice, a lawyer might advise you to file a wrongful death suit over a personal injury claim. These types of cases are similar but do have differences in what you can recover. A wrongful death lawyer Denver, CO families turn to after a death from medical malpractice can help you to determine which type of case is best suited to your needs.
Myths About Medical Malpractice 
Patients who have sustained injuries while under a doctor's care have the right to pursue a medical malpractice lawsuit. However, certain misconceptions may prevent them from doing so. Here are some common myths about medical malpractice you shouldn't believe.
Most Medical Malpractice Lawsuits Are Frivolous:

While some patients may be out for a quick payday and file frivolous medical malpractice lawsuits, this isn't the case for many people. The majority of patients filing these claims are truly injured and want justice for the way they've been treated. In fact, according to research less than 6% of all civil lawsuits filed in the United States annually related to medical malpractice. Furthermore, Harvard School for Public Health reviewed nearly 2,000 medical malpractice lawsuits and less than 3% of those claims lacked the merit to hold doctors or the health care providers responsible for the injury. It's safe to say that Americans are reluctant to file a lawsuit against their physicians and will only do so if there is heart stopping evidence against their physician of being negligent.
Medical Errors Are a Normal Part of Healthcare:

As a medical malpractice lawyer in Denver, CO can confirm, some people falsely believe that medical errors are sometimes to be expected. However, no one should expect to be injured by their doctor. Although medical procedures can come with risks, the majority of medical errors could have been prevented if doctors followed proper procedures.
Medical Malpractice Lawsuits Frequently Result in Huge Payouts:

Another common misconception a medical malpractice lawyer in Denver, CO hears is that medical malpractice claims often result in million-dollar settlements. While that would be nice, it's just not realistic. The truth is that settlements are rarely that high. In most cases, victims are only compensated for their medical bills.
Only Doctors and Surgeons Can Be Sued for Malpractice:

While the majority of medical malpractice cases involve doctors and surgeons, any medic professional who injures a patient can be sued. This includes dentists, nurses, anesthesiologists, and medical assistants.
Medical Malpractice Lawsuits Are Just Like Other Personal Injury Cases:

It's true that medical malpractice cases share many features with other personal cases, like injured victims seeking compensation from negligent parties. However, medical malpractice cases are far more complex than other personal injury claims. In medical malpractice, medical experts have to prove that medical mistakes occurred in addition to any other experts required to prove the extent of your injuries.

Medical Malpractice Lawsuits Settle Quickly:

Unlike some personal injury cases, like minor vehicle accidents, medical lawsuits usually can't be settled quickly. Your lawyer will have to thoroughly investigate the circumstances surrounding your injury and find medical experts to prove the extent of your injuries. This often takes over a year.

Medical Malpractice Lawyers Are Expensive:

Unfortunately, some people hesitate to hire a lawyer to represent them in their medical malpractice cases because they think they're too expensive. However, most of these lawyers work on a contingency, meaning they take a percentage of your winnings. If you happen to lose your case, you won't owe your medical malpractice lawyer in Denver, CO any money.

Medical Malpractice Lawsuits Are Driving the Cost of Healthcare in America Up:

This is most certainly not true. Misdiagnosis, improper treatment, surgical errors and hospital oversights that lead to injuries and death add $29 billion to the cost of providing additional healthcare (that would not be necessary otherwise). A medical malpractice lawsuit does not move forward without medical professionals on a panel known as "experts" determining that there is sufficient evidence to warrant a case and cause the physician to receive disciplinary action. In fact, the majority of lawsuits filed, they're settlement is negotiated out of court and paid by the hospital's insurance provider. The legal cost incurred by the health care industry to pay their lawyers, settle claims and pay jury awards amounts to about $7 billion a year. That is less than .3% of the total 2.2 trillion that's spent in America in the healthcare system.

Doctors Do Not Want To Practice In States Without Limited Medical Malpractice Lawsuits:

 The American Medical Association has been tracking the number of doctors that are in the United States at any given time for the last fifty years. Today, there's about double the amount of (licensed) physicians per 100,000 people in the United States. This is double the number of physicians in the United States fifty years ago. There are many states that have placed a cap on the amount of financial damages a plaintiff can receive from a malpractice lawsuit. However, states with this cap usually have fewer physicians than the overall number.

Doctors Pay More For Insurance:

This is very true. Your doctor pays medical malpractice insurance and that cost has risen a lot in the past two decades. However, the increase is caused by the economic conditions nationally and globally, not because of settlements and jury verdicts. Insurance companies want to make their money from premiums and investments and if their premium goes down, it is because they're making great money on their investments. If their investments go down, premiums go up to replace it. The American Association for Justice reports that the ten largest medical malpractice insurance providers average annual profits that's higher than 99% of Fortune 500 companies earnings.

Putting A Cap on Jury Verdicts Lower Doctors' Insurance Rates:

This is a common myth that is easily dispelled. Malpractice lawsuits in some states have been capped at $250,000 and these states have an average annual medical malpractice insurance premium are actually higher than states with no caps. Texas passed a medical malpractice cap law, and America's largest medical malpractice insurance provider admitted to the Texas Insurance Commission that settlements and jury verdicts had no impact on annual premium. Then proceeded to raise the premiums.
Medical Malpractice Birth Injury 
The birth of a child is typically a reason to celebrate and be happy. However, it does occur from time to time that a birth injury could happen as a result of poor practices by hospital staff or your doctor. Some of the birth injuries that have the potential to occur are:
Oxygen issues: This could lead to not enough air going to the baby's brain resulting in different conditions that may harm the brain.

Overexertion on the baby from the doctor: If the doctor uses too much force during the birth it could harm the baby's limbs or neck. 

Other Problems: Other problems that could have been avoided if a doctor used improper care include cerebral palsy or even harm to the mother. 
If you or your baby have been affected by poor medical practices, then contacting a medical malpractice lawyer in Denver, CO from The Law Office of Richard J Banta, P.C. may be beneficial to getting you the compensation you deserve. Holding those accountable for their errors is also important to ensure it doesn't happen again.
Misdiagnosis Could be Medical Malpractice
When a doctor diagnoses someone incorrectly this could lead to long term problems or a lack of knowledge regarding a medical condition someone has that could've been treated. Side effects of being given the wrong medication for their condition could also be harmful. Doctors are held to extremely high standards and due to their experience and schooling should be able to meet these standards. When they make a mistake though it could be costly to you and your family. Negligence from a doctor could be seen from:
Wrong Test Administered: If a test was ordered by a doctor that differs from a test actually needed by the patient, then this could be malpractice. 

Reading Results from a Test Incorrectly: If a doctor interprets results incorrectly from a test, this could lead to wrong care administered and possible side effects from wrong medication if prescribed.

Not Looking into the Medical History of the Patient: A patient may have a hereditary condition that the doctor overlooked. This could have helped the doctor to understand more about the patient and what they were dealing with and how to care for them.

A Simple Lack of Hearing what the Patient has to say: Doctors are humans too with their own lives to live that may be stressful. Sometimes they get it wrong and do not listen to their patients properly and overlook certain symptoms. 
Hospital Medical Malpractice
The hospital itself should also be examined closely. They are supposed to have adequate staffing levels to be able to handle all of the patients and different duties required to run a hospital. Not only are staffing levels needing to be met, but also the level of certain people who fill certain roles. Some hospitals may have hired doctors, nurses or other personnel who have not shown that they are fit for the job. Consult with your medical practice lawyer in Denver, CO for more information about whether the hospital is responsible for injuries you may have received as a result of malpractice. The Law Office of Richard J Banta, P.C. is experienced in medical malpractice and can help you out with your case and possible settlement. 
Bad Outcome or Medical Malpractice?
Unfortunately not all medical procedures will be successful. The best doctors combined with the best practice can still result in a bad outcome. When this happens, you cannot assume malpractice or negligence has occurred. If you don't know whether or not you have been the unfortunate victim of a bad outcome or medical malpractice, you should consult with a Denver, CO medical malpractice lawyer. 
What if I Signed an Informed Consent Form?
Lawyer Richard Banta would like you to know that you don't sign away your legal rights by signing an implied consent form. This form is required by medical facilities and doctors. It is provided to any patient so he or she understands the known risks of a treatment, surgery, or procedure. An informed consent form does not give any healthcare practitioner or facility the right to carry out a substandard level of care, as established by the medical community. What you should know is that you have a legal right to recover compensation if medical malpractice is a factor in your case. Calling a medical malpractice lawyer in Denver, Colorado is highly recommended. 
Not All Cases are Worth Pursuing
There are all kinds of medical malpractice cases. An error that is made by a healthcare practitioner, and which is caught quickly or results in minimal consequences, may not be worth pursuing. For example, the costs of investigating a litigating case might exceed the economic value of a case. 
Has Your Doctor Been Named in a Previous Medical Malpractice Case?
You can review the Colorado Medical Board to find out if your doctor, or any other healthcare provider, has been named in a medical malpractice case. In general, this is a good idea before you receive any treatment by a medical professional. If you suffered an injury, and believe malpractice is a factor, your lawyer will likely investigate the alleged parties to find out whether there are any previous cases. 
Will Your Case Go to Trial?
In general, the burden of proof lies on the plaintiff. Without the right medical malpractice lawyer in Denver, CO on your side, proving your case beyond a reasonable doubt may be difficult. It will be up to the lawyer to demonstrate the healthcare practitioner breached a duty of care in a way that another practitioner, in the same or similar field and situation, would not have done. This can be easier said than done. Hiring a lawyer is almost certainly necessary. Call Richard J. Banta, P.C., today. 
Why Hire a Medical Malpractice Attorney?
If you believe that your treatment under the care of a physician has been negligent or wrongfully prescribed, contact the Law Office of Richard J. Banta, P.C., today. We are an experienced medical negligence law firm, and, if you work with us, we will be ready to go the extra mile to ensure you are granted the decision and compensation you deserve for enduring malpractice-related pain and suffering.
Victims of medical malpractice who file lawsuits may receive settlements that compensate them for loss of income, loss of future earning potential, loss of enjoyment of life, medical expenses, physical and mental suffering, and more. Your medical malpractice lawyer Denver, CO community members count on for help to ensure all of the details of your unique circumstances are addressed so that you can receive an optimal resolution. Contact us today for a consultation.