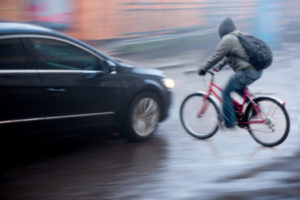 If you've recently been injured in an accident, you may want to contact a bicycle accident lawyer Denver CO cyclists can turn to. At the Law Office of Richard J. Banta, P.C., we have represented countless accident victims who were injured because of someone else's negligence. If you were injured by a driver while riding your bicycle, you may have grounds for a civil suit or a personal injury claim. A bicycle accident lawyer Denver CO trusts, such as Richard J. Banta, may help you recover damages for your pain and suffering.
How Often Do Bicycle Accidents Occur?
You might be surprised by how prevalent bicycling accidents are in the US today. According to recent statistics from the National Highway Traffic Safety Administration (NHTSA), approximately 45,000 cyclists were injured in motor vehicle collisions in the US in a single year. The large majority (around 70%) of fatal injuries occur in urban areas. A densely-populated city like Denver poses countless risks for bicyclists.
What Causes Bicycle Accidents?
Like any other vehicle accidents, there are a variety of reasons why bicycle accidents can occur. Cities often implement bike lanes as a safety measure for cyclists, but the inconsistency of these lanes may present more problems than solutions for bicyclists and drivers alike. A large percentage of accident victims seeking a bicycle accident lawyer in Denver CO sustained injuries because other motor vehicle drivers simply weren't aware that a bicyclist was near their vehicle. Drivers who are speeding, recklessly changing lanes, or failing to abide by other traffic laws present many risks for bicyclists.
Alcohol consumption is another risk factor, as any bicycle accident lawyer Denver CO can rely upon might explain. Motor vehicle drivers who are driving under the influence are far less likely to notice a bicyclist on the road, and cyclists who have consumed alcohol are similarly at risk for causing a collision.
Do Helmets Make a Difference?
Bike helmets can save a cyclist's life in a serious crash — there's no doubt about that. However, helmets are only effective at preventing or mitigating injuries to the head. Other bodily injuries, such as broken bones or spinal damage, cannot be prevented through the use of a helmet. Bike accident victims who weren't wearing helmets could have a viable injury claim if their injuries couldn't have been lessened through the use of a helmet. In these cases it is especially wise for an accident victim to speak with a Denver bicycle accident lawyer for more information.
Contact a Bicycle Accident Lawyer Denver CO Cyclists Trust
Countless cyclists are injured every single day on the road. If you or someone you love has been the victim in a bicycle accident, you may be entitled to compensation. Even if you aren't sure about your eligibility for a settlement, don't hesitate to contact our firm at your soonest convenience. We offer free consultations for personal injury victims, and there is never any pressure to proceed with a lawsuit if you decide that it's not in your best interest. It's the goal of our firm to help clients retrieve maximum compensation while finding financial and personal stability after an accident.
For more information, or to speak with a bicycle accident lawyer Denver CO residents depend on, call the Law Office of Richard J. Banta, P.C. today at 303-331-3415.