Autobus Accident Lawyer Denver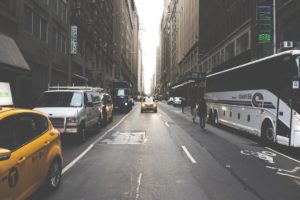 If you have been injured in a bus accident as the occupant of a car, the passenger of the bus, or a driver, then please call Denver, CO Bus Accident lawyer at Richard J. Banta, P.C. for assistance. For years, we have been helping people recover damages after a bus accident. These cases vary from standard car accidents; therefore, pursuing legal action on your own is inadvisable. For the right legal advocacy, call us today. 
Causes of Bus Accidents in Denver, Colorado
A bus accident can be the result of various factors; therefore, no two are exactly alike. That said, many have similarities in their causes. As a leading autobus accident lawyer in Denver, we know that a number of bus crashes and rollovers are caused by negligence on the part of the bus driver, bus company, a parts manuacturer, or  maintenance company. Causes of accidents may include:
Driver fatigue

Distracted driving

Failure to signal

Inattention to the road

Aggressive driving

Speeding

Reckless driving

Driving while intoxicated

Poor maintenance

Mechanical failure

Improper training

Improper safety protocols in place
As a bus accident law firm, we have handled notable bus accident cases that have reached the attention of the media, as well as, smaller, yet equally tragic, cases. Most of the time, we have recovered a settlement through negotiations. Having recovered millions of dollars in damages, we are confident in our ability to help clients who are in need of a bus accident lawyer. To learn more, call Richard J. Banta, P.C.
The Importance of a Bus Accident Lawyer

Bus accident cases can be challenging, and without the assistance of a lawyer, victims may not be prepared to handle large defense teams who are working for the bus company. You can feel confident in knowing the bus company will do whatever they can to protect their name, business, reputation, and liability. It is possible for evidence to be destroyed or to go missing. As the victim, you may be vulnerable and should be taken advantage of. A bus accident lawyer can protect your rights and interests. At Richard J. Banta, P.C. we accept the vast majority of cases on a contingent fee basis. This means you can turn to some of the best lawyers for help without having to pay anything up front. Only if we win your case do we collect a portion of your compensation. It's easy and a good way to ensure you have optimal legal representation.
No matter what bus company you've been involved in an accident with, please call us. There is no upfront fees and no obligation. We'll ask you a few questions about what happened and explain to you your legal options. Bear in mind, that not all lawyers handle bus accident cases. Therefore, you should ensure you choose the right firm. To get started, call an autobus accident lawyer in Denver from Richard J. Banta, P.C.