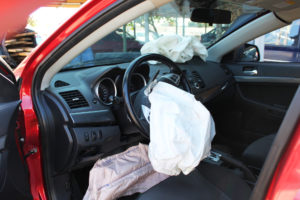 The most common cause of auto accidents is driver error. However, sometimes a crash can be caused by a defective part in the vehicle. If a defective part caused your car accident, you probably have no idea how to hold someone accountable for the losses you have suffered. Thankfully, you don't have to navigate the legal and financial aftermath of an auto accident alone. By speaking with an experienced Denver, CO car accident lawyer from Richard Banta, P.C. as soon as you can, you'll preserve your legal options until you can make an informed decision about how best to move forward.

What To Do
If a defective part played a role in your auto accident, you likely have good cause to file a lawsuit against either the manufacturer of the part or the company that sold the vehicle to you with wrongful assurance of safety. Very importantly, you should not repair the defective part that caused the accident before you have spoken with an experienced Denver, Colorado automobile accident lawyer. The part will be a key piece of evidence in your lawsuit and repairing it may destroy your case. In fact, you should not have any repairs done to your vehicle at all before speaking with a Denver, CO automobile accident lawyer. Here are some other steps you should take:
Take extensive pictures, videos, and notes of the damage to your car, the damage to other cars, the part that malfunctioned, and the scene of the accident.

Keep track of the location of your vehicle, even if it is taken to an impound lot.

Contact an attorney who specializes in car accident lawsuits, preferably one who has successfully navigated a defective part case before.
It is possible that a class action lawsuit is already underway if other cars have been failing due to the same part. Your Denver, CO automobile accident lawyer will be able to look up any potential class action lawsuit information that may be relevant to your situation. If your case is the first, you may be the beginning of the class action lawsuit, or yours might be a stand-alone case.
Other Notes
There are a few other things you should be aware of. First, a part failing does not necessarily mean it is due to a defect. If you do not take proper care of your car and a part malfunctions as a result, you are at-fault for that failure. You will likely only have a lawsuit on your hands if the failure was the result of a defect in manufacturing or repair.
It is also possible for a lawsuit to be viable when a defect made an accident worse, rather than causing the accident. For example, even in an accident that is your fault, you may be able to sue for your medical bills if a faulty airbag did not go off. Speak to a Denver, CO automobile accident lawyer from Richard Banta, P.C. to learn more about whether this kind of situation factored into your case.