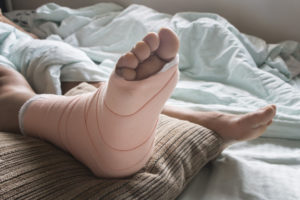 If the reckless behavior of someone behind the wheel of a car caused you harm, it's crucial that you seek the help of a professional some would consider to be the best pedestrian accident lawyer Denver CO has to offer. There are many attorneys who can serve as such; as an accident victim, you should ensure you're working with someone skilled in proving negligence. Consider the Law Office of Richard J. Banta, P.C., a personal injury firm with the experience to serve you.
Kinds of Pedestrian Accidents
It has been reported by the National Highway Traffic Safety Association that almost 5000 pedestrians are killed each year in car accidents in the U.S. Tragically, many of those who lose their lives in these accidents are pedestrians. When you're seeking the best Denver pedestrian accident lawyer, you should look for someone who has dealt with many varieties of these accidents, as there are many causes. A few causes of pedestrian accidents include:
Poorly-maintained and defective sidewalks and parking lots;

Construction in walkways;

Debris on sidewalks and in other walkways; and

Driver negligence, i.e. an inattentive driver hitting a pedestrian attempting to cross a major roadway.
If you were in an accident involving a vehicle, you should take particular care to find the best pedestrian accident lawyer Denver CO can offer you, because drivers owe pedestrians a high duty of care. Both pedestrians and drivers have a responsibility to be reasonably careful and the court may look at a number of factors in determining who was negligent. But often, driver negligence leads to pedestrian injuries, so you may have a valid claim. The driver of the vehicle may have to compensate you financially for both personal and property damage, in that case.
Damages in an Accident Claim
When seeking out the best pedestrian accident lawyer Denver CO clients prefer, you should be looking for an attorney who will help you prove the other party's negligence. If another party's negligence led to your injury, you may be eligible to recover damages. In order for negligence to be proven, it must first be established that the responsible person:
Had a duty of reasonable care to you, given the situation;

Failed to fulfill that duty, either via action or inaction; and

Was a factor in causing the accident that injured you.
Pedestrians also are expected to exercise a reasonable amount of care for their own safety, and there are ways in which they are often negligent when in dangerous areas. When searching for the best pedestrian accident lawyer Denver CO has to offer, you will want to find an attorney who is aware of this, but who also knows the level of care drivers need and often fail to have. He or she should also be familiar with the responsibilities and duties of property owners, in case your pedestrian accident was due to dangerous property conditions.
Finding the Best Pedestrian Accident Attorney in Denver CO
There are many damages for which you may be eligible if you were in a pedestrian accident. Don't hesitate to start working toward seeking the compensation you deserve. The Law Office of Richard J. Banta, P.C., can help you with your claim. For guidance from an attorney some may consider the best pedestrian accident lawyer Denver CO has to offer, call today at 303-331-3415.