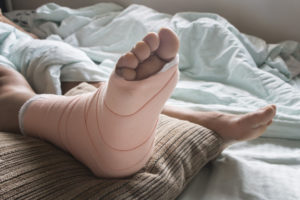 Those who live in busy city areas may travel on foot sometimes instead of by car, but as the best pedestrian accident lawyer in Denver from Richard J. Banta, P.C. knows, pedestrians can get hurt if there are careless drivers on the road. If you or someone you care about what recently in a pedestrian accident, then it is key that you understand your legal rights and get help from an attorney immediately. We can explain the options you have for seeking monetary compensation from the driver at-fault. We offer free consultations for new clients, so please don't hesitate to find out more. 
The Right to Compensation 
During your first consultation, we can talk with you about the rights you have in obtaining financial restitution from the driver who hit you. You may be entitled to compensation for injuries and losses that resulted due to the accident. Typically, there are two options that a person has after such an incident. The first, is to file a claim with the vehicle driver's insurance company. Or, you can file a personal injury lawsuit through civil court.
You can only file a claim with the driver's insurance company if they actually have coverage. The negotiation stage of a settlement can be both time and energy consuming, so we suggest getting assistance from a legal professional. Be forewarned, that the adjuster from the driver's insurance company is likely going to try and convince you to accept a settlement that is significantly less than what your claim is worth. We can protect you from being taken advantage of during this process. If the driver wasn't covered, then the best pedestrian accident lawyer in Denver, CO can give you the necessary paperwork for suing the individual directly. 
Proving Negligence
If you were injured as a pedestrian and decide to take action against the driver, then you will have to prove by a preponderance of evidence that negligence occurred. By definition, negligence is failing to act with a degree of care that any reasonable individual would have used in a similar situation. Under negligence, there are five elements that must be proven in order to win the pedestrian accident case. These elements are listed and defined below: 
Duty: the driver was obligated legally to behave in a certain way toward the pedestrian and to exercise a reasonable level of care. 

Breach of Duty: the driver breached the duty of care, failed to operate the vehicle with carefulness, and may have violated a traffic law that led to the pedestrian being struck. 

Cause-In-Fact: the pedestrian has to show that the driver's behavior directly caused the injury. 

Proximate Cause: the driver will be held responsible for predictable harm that was a result of his or her behavior. For example, in pedestrian accidents, the serious injuries inflicted on the pedestrian are viewed as foreseeable repercussions of careless driving. 

Damages: the pedestrian has to prove that the incident caused harm and suffering, usually in the form of physical injury, monetary loss, and/or property damage. 
Best Pedestrian Accident Lawyer in Denver, CO

If the reckless behavior of someone behind the wheel of a car caused you harm, it's crucial that you seek the help of a professional some would consider to be the best pedestrian accident lawyer that Denver, Colorado has to offer. There are many attorneys who can serve as such; as an accident victim, you should ensure you're working with someone skilled in proving negligence. Consider the Law Office of Richard J. Banta, P.C., a personal injury firm with the experience to serve you.

Kinds of Pedestrian Accidents

It has been reported by the National Highway Traffic Safety Association that almost 5000 pedestrians are killed each year in car accidents in the U.S. Tragically, many of those who lose their lives in these accidents are pedestrians. When you're seeking the best lawyer, you should look for someone who has dealt with many varieties of these accidents, as there are many causes. A few causes of pedestrian accidents include:
Poorly-maintained and defective sidewalks and parking lots;

Construction in walkways;

Debris on sidewalks and in other walkways; and

Driver negligence, i.e. an inattentive driver hitting a pedestrian attempting to cross a major roadway.
If you were in an accident involving a vehicle, you should take particular care to find the best lawyer possible, because drivers owe pedestrians a high duty of care. Both pedestrians and drivers have a responsibility to be reasonably careful and the court may look at a number of factors in determining who was negligent. But often, driver negligence leads to pedestrian injuries, so you may have a valid claim. The driver of the vehicle may have to compensate you financially for both personal and property damage, in that case.

Damages in an Accident Claim
When seeking out Denver's best pedestrian accident lawyer in CO, you should be looking for an attorney who will help you prove the other party's negligence. If another party's negligence led to your injury, you may be eligible to recover damages. In order for negligence to be proven, it must first be established that the responsible person:
Had a duty of reasonable care to you, given the situation;

Failed to fulfill that duty, either through action or inaction; and

Was a factor in causing the accident that injured you.

Pedestrians also are expected to exercise a reasonable amount of care for their own safety, and there are ways in which they are often negligent when in dangerous areas. When searching for a lawyer, you will want to find an attorney who is aware of this, but who also knows the level of care drivers need and often fail to have. He or she should also be familiar with the responsibilities and duties of property owners, in case your pedestrian accident was due to dangerous property conditions.

Finding the Best Denver Pedestrian Accident Attorney 
There are many damages for which you may be eligible if you were in a pedestrian accident. Don't hesitate to start working toward seeking the compensation you deserve. The Law Office of Richard J. Banta, P.C., can help you with your claim.

Can I file a pedestrian accident claim against a cyclist who hit me while I was jogging on a marked bike path?
If you were hit by a cyclist and injured as a pedestrian while walking or jogging on a bike path, you may have the right to file a legal claim. Unless these paths have been specifically marked as "bicycles only", bike paths are actually mixed-use paths and intended for cyclists and walkers or joggers.

The Rights of Bicyclists
When a cyclist and a pedestrian collide into one another, the question regarding the rights of one another will likely arise. A pedestrian is owed care and attention from not only drivers, but also other pedestrians and cyclists. With regards to the rights of cyclists, it will depend on the state in which the accident occurred. Many states grant cyclist rights and duties respective to the vehicle codes that apply. Generally, bicyclists can make use of any and all the opportunities that a vehicle has; however, this means they will also be required to stop at red lights and follow the standard traffic rules.

Pursuing Compensation As a Pedestrian Hit by a Cyclist
In Denver, bike paths mark the area. Many of these, if not all, are able to be used by pedestrians and cyclists. In the evenings and on the weekends these paths can become crowded. There have been incidents involving a cyclist who struck a pedestrian and caused them serious injuries. Cases involving a cyclist hitting a pedestrian are not the same as a vehicle hitting a pedestrian primarily because there is no car insurance. Even so, it is possible for the pedestrian to file a legal claim against the cyclist. Whenever a pedestrian is hit and injured, they will likely need one of the best Colorado pedestrian accident lawyers in Denver from Richard J. Banta, P.C. to pursue damages. 

Filing a Personal Injury Claim As a Pedestrian
In general, a lawyer would file a personal injury claim against the cyclist. The claim may be filed for negligence on the part of the cyclist riding recklessly or in an unreasonable manner. You would have to prove this and show that it was their actions that led to your injuries. Damages for the following may be available:
Medical care

Lost wages

Pain and suffering

Property damage

Emotional anguish



If the cyclist does not have applicable insurance coverage, a pedestrian accident lawyer may assert their claim against other assets owned by the cyclist; such as a home.

Involving the Police
Just as you should call the police when you've been injured in a car accident, you should certainly call the police as an injured pedestrian who has been hit by a bicyclist. You will want to file a police report and ensure it is accurate. This will be needed by your lawyer and insurance companies. 
Would You Like to Find Out if You Have a Claim?

Every day, pedestrian accident lawyers from the Law Office of Richard J. Banta, P.C. meet with injured clients and family members. We strive to explain their rights, legal options, and court procedures in an easy to understand manner so they can make sound decisions as quickly as possible. After all, time is of the essence. Any delays could impede your ability to recover compensation. We handle 99% of all personal injury claims on contingency.

If you have been injured in a pedestrian accident, you may be asking yourself, "Who is the best lawyer to represent my case?" To find out how our firm can help you, contact our office for a free consultation with Colorado's best pedestrian accident lawyer at Richard J. Banta, P.C.