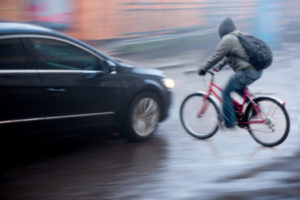 Best Bicycle Accident Lawyer in Denver CO
In Colorado, cyclists are required to follow the same rules as vehicle drivers.  According to statistics from the CDC, the majority of bike accidents with vehicles occur in non-intersectional areas of the road in urban areas. Because of these factors, a bike accident should be handled just like an accident with another motor vehicle. If you have been injured in a bike accident, you are probably wondering who the best bicycle accident lawyer in Denver CO is to help you get the compensation you need.
If you have been injured in a bike accident and are looking for the best bicycle accident lawyer Denver Colorado offers, consider calling the Law Office of Richard J Banta, P.C. to see how we can help.
Bike Laws
In many areas in Denver, CO, there are designated bike lanes that are just for cyclists. Vehicles are prohibited from driving, idling, or parking in bike lanes, even if there are no bicycles in the lane. Cyclists are allowed to leave bike lanes and ride on the road, but are discouraged to do so if there are bike lanes available in the area they are riding in. However, cyclists are prohibited by law to ride on highways and other marked roads. When it comes to right of way, bicyclists have the same rights as vehicle drivers do.
Unfortunately, despite these laws, many cyclists are seriously injured in bike accidents caused by vehicle drivers. When this happens, a victim will likely be looking for the best bicycle accident lawyer in Denver, Co to help them pursue damages for the losses their injuries caused them. Bike accident injuries are often catastrophic because of the lack of protection bike riders have when involved in a collision with a vehicle. In some cases, the vehicle driver may even face criminal charges if there was a traffic law broken by the driver that resulted in the accident.
Steps to Take After a Bike Accident
It is important to take certain steps after a bike accident in order to protect your rights should there be any legal action for injuries. If you are physically able, call 911 and report the accident to police. Also, if your injuries allow, take photographs of the crash scene, along with any visible injuries you have. If you are unable to take photos, ask one of the bystanders to do this for you. You should also try to get the names and contact information of any witnesses to the accident.
When the police arrive, provide them with the details of what happened. Be honest and do not speculate, just the facts. The police will also get the information from the driver of the vehicle, but that is something you should do as well. Make sure you have the driver's name, contact information, license number, vehicle registration, and insurance company information.
Contact a Denver Co Bicycle Accident Lawyer Today
If you have been injured in a bike accident, you may wonder who the best bicycle accident lawyer Denver CO victims trust is? You may be entitled to damages for the losses that your injuries have caused. Contact the Law Office of Richard J Banta, P.C. to schedule a free case evaluation to find out how our legal team can help ensure your rights are protected and you get the financial compensation you deserve.