Experienced Car Accident Lawyer
in Aurora, Colorado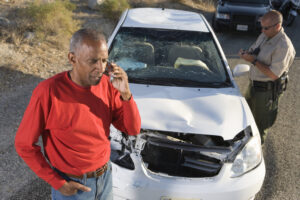 When damages from a car accident are present, our lawyer in Aurora, CO, should be one of your first calls. While car accidents can range in severity, know that even minor accidents can leave a significant impact, and as a result, victims may be left to contend with losses. Regardless of the devastation that may ensue, car accidents can leave a lasting impact on all involved. It's important to realize that medical care will play a critical role in not only your treatment but also your legal claim. Managing the legal process can be complicated, especially when the insurance company denies your claim. At the Law Office of Richard J. Banta, P.C., our team has an in-depth
understanding of personal injury law and is available to help you receive
the best outcome possible. 
The Lasting Impact of a Car Accident
While physical injuries are among the most widely discussed damages victims succumb to, car accidents can also leave victims to experience emotional trauma as well. As a result, a victim's mental health can deteriorate; examples include: 
Depression

Post Traumatic Stress Disorder (PTSD)

Difficulty Sleeping

Mood Swings

Emotional Disturbances

+More
Treating psychological problems may require treatment from a psychologist or a mental health clinician. Additionally, with the assistance of our Aurora, CO car accident lawyer, it may be possible to obtain compensation for these losses when legal action is taken. To receive the treatment you require, it's critical to seek care from a medical provider after the accident immediately or as soon as injuries become apparent. 
Claim Denial? Act Immediately!
When victims face losses from a car accident, it may be in their best interest to seek compensation from the insurance company of the at fault driver. In some cases, this can be a reasonably straightforward process. However, sometimes, the insurance company may deny the claim. This can be incredibly disheartening, but know that not all hope is lost. If your damages were the fault of a negligent driver, it might be in your best interest to work with our firm. We can determine the reason for the denial, work to remedy the issue, and negotiate with insurance companies to receive the compensation you are entitled to. 
Lawyers Can Help Strengthen Your Case
While it can be tempting to represent yourself, in many cases, when damages are more significant, it may not be in your best interest. A lawyer's experience can provide you with the upper hand when dealing with medical providers, insurance companies, and the court process. We know that taking legal action can feel intimidating, and we are here to help. With our experience, you can rest assured that you are in the hands of a trusted professional who will: 
Set a fair value for your claim

Negotiate with the opposing side

Provide experienced and well informed legal guidance

Answer the many questions you have

Provide a wealth of resources to build your case
Without a lawyer, you risk walking away empty-handed or with a settlement that is far less than what you deserve. The Law Office of Richard J. Banta, P.C. can offer our tenacity, experience, and support during one of the most challenging times of your life. We are dedicated to protecting your rights and fighting for a fair settlement. We want to discuss your case, answer your questions, and discuss any concerns or reservations you may have. Schedule a complimentary consultation with our Aurora, Colorado car accident lawyer to take control of the hand you have been dealt.