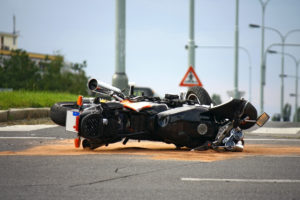 Are you looking for a motorcycle accident lawyer in Colorado? If so, look no further than the Law Office of Richard J Banta, P.C. Call our firm now for an initial case review. 
If you have been injured, or you have lost a loved one, in a motorcycle accident, and you believe negligence was the cause, now is the time to consider speaking with a Colorado motorcycle accident injury law firm. Compensation may be available; however, time is of the essence. The sooner you allow a lawyer to build your case, the better the outcome might be. 
In the United States it is said that a vehicle crash happens once every 15 minutes. Most of these are a direct result of driving violations and careless choices. When the driver of a car fails to adhere to the rules of the road, and they cause an accident to happen, they can be held accountable. In all states, if negligence is found to be the cause of a motorcycle accident, the victim can file a claim for their damages. Depending on the circumstances, criminal charges may also be filed by the state. If this should happen, the victim is not impeded by their ability to proceed with a civil case. 
Common Causes of Motorcycle Accidents
There are a number of rules that must be followed by drivers. For example, speeding, swerving in and out of traffic, racing, or drinking behind the wheel are all illegal actions. Sadly, many drivers fail to uphold their duty to be a safe, reasonable, and cautious driver. As each lawyer from our motorcycle accident injury law firm in Colorado can attest, many accidents happen because of the following:
Distracted Driving – At this time, distracted driving is the number one cause of accidents in the U.S. During the day an estimated 660,000 people talk on their phones while driving. Several more thousand people will send text, emails, and use social media. Apart from phone usage, eating while driving, changing the radio, looking in the back seat for something, tending to a child, and reading the newspaper are all further distractions that cause motorcycle accidents. 
Speeding – It is safe to presume that most drivers speed at some point or another; however, one in five admit to driving well above the speed limit. Speeding can put the driver of the car at risk for losing control and is a common cause of negligent driving in the U.S. If you have been injured in a crash caused by a speeding driver, a motorcycle accident lawyer Denver CO victims recommend can help get you the compensation you deserve. 
Drowsy Driving – Approximately 4.2 percent of drivers claim they have fallen asleep at the wheel within the last month. This is not limited to truck drivers, but any driver who has not had enough sleep, is ill, or otherwise not alert enough to drive. 
Drunk Driving –  Drunk driving is illegal and can be punished through criminal charges. Even so, nearly 300,000 drunk driving incidents occur every day. Our Colorado motorcycle accident injury law firm has seen many victims of drunk drivers suffer serious, life-threatening injuries. Meanwhile the drunk driver often escapes with a few cuts and bruises.
In addition to the above, vehicular accidents can be caused from failure to signal, driving on the wrong side of the road, reckless driving, and a failure to stop. If you were injured because another driver was negligent, careless, or reckless, please call the Law Office of Richard J Banta, P.C., a seasoned Colorado motorcycle accident injury law firm.