Personal Injuries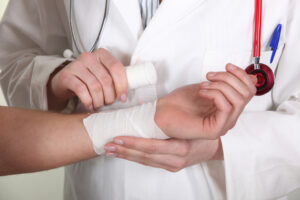 A personal injury is a legal term given to an injury received by a person. For these injuries to have a chance at a strong personal injury case it must be proven that the injury was due to someone else's negligence or complete lack of care towards another person. Personal injury cases may be compensated for a variety of different items. These include a financial amount determined for pain and suffering, a certain financial amount to cover missed days from work, doctor bills, therapy sessions, property damage coverage, and more. 
Common Circumstances for a Personal Injury 
For example, if a person operating construction equipment failed to keep a watch for people moving near their equipment and injured them then this may be the basis of a strong personal injury case against the construction equipment operator. Other examples come from things like car and truck accidents as well as motorcycle accidents. When a car hits another car and it leads to injuries then the person at fault may have a personal injury case brought against them due to their fault in the accident. If a motorcycle rider hits a pothole in the road or is impacted by construction work on the road that isn't cautioned off then they may have a strong personal injury case.
Why Are Accidents So Common?
Accidents can happen in all walks of life and from a variety of different sources. Many accidents though can be traced to something or someone at fault though. Car accidents are quite common due to there being a lot of people on the road at the same time. Many of these people may be in a hurry and feel stressed too. When people are in a hurry and are stressed they tend to not think as clearly as when they are at peace. This is one major cause of many car accidents. Other accidents, like slip and fall accidents, can happen due to someone's failure to mark off an area that is dangerous. If there is a water spill or gasoline spill somewhere and someone is unable to see it and slips in or happens to ingest it then this may constitute a personal injury case.  
Legal Assistance
If you or someone you know are wondering if your injury may have a chance of being a personal injury case then it's important to know that legal assistance is out there. Lawyers who work in the realm of personal injury law have helped numerous people receive compensation for things like pain and suffering and property damage in their cases. If you would like to learn more about personal injury and discuss a possible case then consider reaching out to a personal injury lawyer people turn to in their time of need from a firm like Unidos Legales. Discussing these matters with a professional could go a long way in holding the guilty party accountable for their negative actions that have left a victim with injuries.