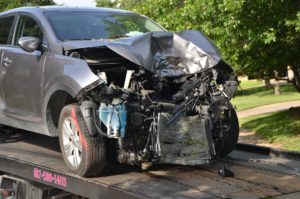 Car Accident Lawyer in Denver, CO
Insurance companies don't always play fair
An insurance company has one ultimate goal, and that is limiting the amount they pay out in claims in accidents such as yours. This is what helps them profit. Even when another driver is found to be 100 percent at fault for your accident, you still may find yourself struggling with the insurance company involved to receive the compensation you're entitled to because of your medical bills, property damage tally, injuries, and other losses.
When you find yourself fighting with an insurance company even after it has been determined that you're not at fault, or if you're not sure whether the settlement you are being offered truly represents your losses and the scope of your injuries, it's time to talk to a car accident lawyer in Denver, CO.
At our law office, we believe you should not have to go back and forth with an insurance company just to receive the bare minimum for your losses. We will handle the insurance company negotiations for you instead, so you don't have to worry about the mountains of paperwork and talking to representatives a million times about what happened. Instead, you can use this time to focus on getting your life back to normal.
If you were seriously injured, your focus should be entirely on your recovery rather than what the insurance company is doing to deny or limit your claim. We are prepared to handle the insurance settlement negotiations for you, and if that does not result in a fair offer to you, we are ready to take your case to court.
Don't get caught in the insurance trap
An auto insurance company may try different tactics to avoid paying out the full value of your claim. These might include the following tactics:
Repeatedly asking for documentation and forms, some of which you may have already sent in before.
Asking for a recorded statement about what happened in the accident. They may tell you this has to be done to process your claim; however, you should never give a full statement about the accident details to the insurance company without your car accident lawyer in Denver, CO being present. In these statements, the insurer is going to look for things you may have inadvertently said that could damage your case so it can be used against you later.
Delaying the claim process overall by not responding to you in a timely manner, asking for things over and over again, and so forth. The aim here is to frustrate you to the point where you give up and settle for their first offer.
With all the strategies insurance companies have at their disposal to limit or deny your claim, it just makes sense to contact a car accident lawyer in Denver, CO for help after you've been in a car accident. The experienced team at our firm is fully prepared to handle your case and provide the support you need after being the victim of an accident. Call the Law Office of Richard J. Banta, P.C. today.