Car Accident Lawyer in Lakewood, Colorado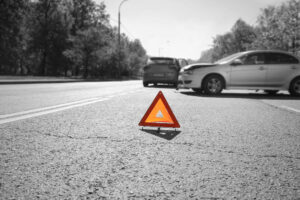 As a victim of an accident, the thought of taking legal action may cross your mind, which is why contacting a Lakewood, CO car accident lawyer should be one of your first steps. It's only natural to be entirely consumed with the injuries sustained, the damage to your vehicle, and the financial impact. However, it's essential to know that taking legal action shouldn't be an afterthought; it should be at the forefront of your mind. Damages can be costly and impactful and the Law Office of Richard J. Banta, P.C. not only provides premier legal services, but we can also answer the multitude of questions you undoubtedly have:
Is contacting law enforcement beneficial for my case?
Know that regardless of whether law enforcement will be able to help strengthen your case, in Colorado, it's the law to contact law enforcement in the wake of a car accident. When the police arrive, they will secure the scene, ensure medical attention is received, and begin investigating the accident. This can be beneficial for your case should they determine that the other driver was at fault. However, keep in mind that when speaking with law enforcement, you should use caution. The last thing you want to do is inadvertently admit fault for something you weren't responsible for. 
What is a police report, and how can it help?
The police report outlines the accident details and can act as a critical piece of evidence when proving your claim. Should the other driver refuse to admit fault, the police report will typically outline the details surrounding the accident and identify who is at fault. 
Should I settle my case or pursue a lawsuit?
This is one of the most important decisions that you can make. Consulting with your Lakewood, Colorado car accident lawyer will be imperative when determining the best way to move forward. Most personal injury cases result in a settlement with the insurance company, and a lawyer can help ensure that this occurs. However, keep in mind that when parties cannot settle or damages are incredibly extensive, it may be appropriate to pursue a lawsuit. 
What is the best way to maximize my claim? 
Most victims who move forward with legal recourse will want to know the value of their claim. It's only natural that you will want to receive the compensation you are owed. To ensure the best possible outcome, there are a few elements to keep in mind: 
Gather as much evidence as possible

Seek medical care

Contact a legal professional without hesitation
Do I need representation from a lawyer? 
This will depend on the extent of the damages you are left to contend with. If you weren't injured or damages were minimal, it may not make sense to access our services. However, if there were significant injuries, it will likely make sense to consider the assistance of a lawyer. If you are unsure, it doesn't hurt to schedule a complimentary consultation with our firm to determine the most appropriate way to move forward. 
Are you watching the medical expenses pile up? Or perhaps the injuries you suffered have impacted the life you once knew for the long haul. The Law Office of Richard J. Banta, P.C. wants to help you review your case, offer guidance, and take swift action. With our services, you can feel confident knowing that you are in the most capable of hands. Get started today by scheduling a consultation with our Lakewood, Colorado car accident lawyer.