Experienced Pedestrian Accident Lawyer
in Aurora, CO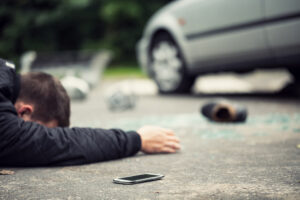 Our pedestrian accident lawyer in Aurora, CO has represented clients who have experienced the lasting impact that such an accident can have. Pedestrians can be particularly vulnerable, and when they are injured by a vehicle, with nothing to protect them from the impact, the results can be catastrophic. Accidents involving pedestrians can happen in various ways, and for many, legal action with the help of the Law Office of Richard J. Banta, P.C., will be imperative. You deserve to have your rights protected, which is why calling our office today will offer you the best opportunity at a favorable outcome.
Common Causes for Pedestrian-Related Accidents
There are many ways pedestrians can suffer injuries in an accident. Drivers on the road can be highly distracted, and a person crossing the street or on the side of the road could go unnoticed. Dangerous or negligent driving behavior is a top reason pedestrians fall victim to these types of accidents. Common causes for these accidents include: 
Distracted Driving such as: 

Talking on the Phone

Texting

Adjusting Radio or Navigation Settings

Driving Under the Influence of Drugs or Alcohol

Failing to Adhere to Traffic Laws

Driving at High Speeds

Poor Driving Conditions
These accidents can forever change a person's life, and you deserve the assistance of our Aurora, Colorado pedestrian accident lawyer. Our team will work closely with you to ensure that the responsible party is held accountable and that your rights are protected throughout the process. 
Do Pedestrians Have Rights? 
Yes- as a pedestrian, know that you have rights, and they deserve to be protected and kept at the forefront of your case. While it's important to note that pedestrian rights can vary depending upon the state, in Colorado, pedestrians have the following rights: 
Pedestrians have the right of way at all crosswalks; drivers are required to yield and allow them to cross

Vehicles have the right of way at any unmarked areas or areas without a crosswalk

Pedestrians should not cross at an intersection diagonally unless there is a crosswalk indicated it is okay to do so

Violation of these laws could result in an infraction

Pedestrians should follow all traffic rules
Depending upon the nature of the accident, determining who might be at fault can become complicated. In some cases, both parties may be partially at fault for the accident. However, a claimant may still have the ability to receive damages if their negligence is not greater than the responsible parties. 
Why Choose Us
Significant damages, complicated legal issues, and navigating the court system can all feel like a heavy load to bear following an accident. Having a legal professional in your corner will be imperative to receiving the results you deserve in the wake of such a tragic occurrence. With our services you can expect: 
To have a responsive professional available to answer your questions

To have a professional who will fight for your rights

To have an experienced negotiator who can contend with insurance companies and lawyers

To have the appropriate paperwork submitted within the proper timeframes
Working with the Law Office of Richard J. Banta, P.C. can offer the peace of mind you and your family deserve during this incredibly challenging time. For the guidance and support, you require, contact our pedestrian accident lawyer proudly serving Aurora, CO.