Personal Injury Lawyer in Lakewood, CO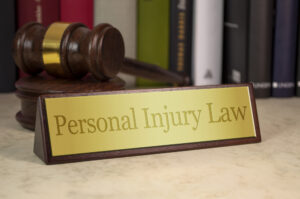 Suffering damages from an accident that was no fault of your own may require victims to ascertain legal representation from our Lakewood, CO personal injury lawyer. Injuries can vary from accident to accident; however, several common injuries could occur. Some of which may take significant periods to recover from. As a result, victims should set their sights on the assistance that the Law Office of Richard J. Banta, P.C. offers. Dealing with insurance companies can be stressful, and there will be several factors to keep in mind. Seeking the services of a lawyer is more attainable than ever as our firm works on a contingency fee basis meaning, we don't get paid unless we win your case. 
Types of Injuries in Accident Cases
Accidents come unexpectedly, and victims are rarely able to plan for them. There are various ways they might happen, from car accidents to slip and falls, the impacts can be devastating. Sometimes, an accident that initially seemed minor can call for lengthy recovery times. In the most difficult situations, victims may suffer injuries that leave them permanently impaired. This can be devastating. However, if you have suffered any of the following injuries and believe that someone else should be accountable, it's time to contact our office: 
Broken Bones

Organ Damages

Sprained Muscles

Neck Injuries 

Back Injuries

Head Trauma

Lacerations

+More
After an accident resulting from negligence, the injuries and recovery process will likely consume you. However, keep in mind that contacting our personal injury lawyer in Aurora, Colorado, should be one of your top priorities. We have the experience, resources, and dedication needed to represent you in your case. 
Consultations and Contingency Fees
There are two things to understand when searching for an area lawyer: complimentary consultations and contingency fees. These are in place to make the services of a legal professional accessible when you need them the most. If you are financially suffering due to your losses, without these two benefits, the thought of a lawyer's services may feel entirely out of reach. 
Consultations
Many lawyers offer complimentary consultations to prospective clients. These are time-limited meetings that allow for lawyers and prospective clients to get a feel for each other, discuss the case, and determine the most appropriate way to move forward. This is imperative for victims as they will want to be sure that the attorney of their choosing has the experience they are looking for. Because these meetings are typically time-limited, it's essential to be clear, concise, and prepared with relevant information. Keep the following in mind when preparing for a consultation with a member of our team: 
Keep an account of what happened and bring it with you

Bring any evidence or relevant documentation in your possession

Make a list of questions you are hoping to have answers to

Be as straightforward as possible
Remember, you will only have a limited time, and you won't want to waste this opportunity. Carefully preparing for the initial consultation can ensure that you can make the most of your time. 
Contingency Fees
Contingency fees are another essential component to have an understanding of. For some, legal help may feel entirely out of reach because of the expense associated with a lawyer's services. Contingency fees make it possible for those who may be struggling financially with the ability to receive legal representation. When a lawyer works on a contingency basis, it means they will not collect a fee unless they can reach a successful resolution to your case. Typically, their fee will come out of the settlement award. While this is usually about 30% in most cases, it's crucial to have a clear and upfront conversation about legal fees at the very start so that you clearly understand the cost. 
To learn more and for help, you can depend on, contact our Lakewood, CO personal injury lawyer from the Law Office of Richard J. Banta, P.C.