Transit Bus Accident Lawyer Denver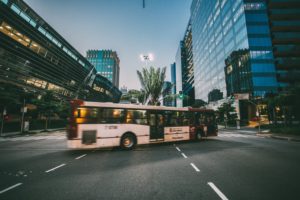 Whenever a bus accident occurs, a Bus Accident lawyer in Denver, CO from Richard J. Banta, P.C. knows that the injuries sustained by the occupants tend to be severe and the chances of fatality is considerably high. As a transit bus accident lawyer in Denver, we know of cases that have occurred because of a number of reasons; however, many of these accidents happened due to the negligent actions of the bus driver or bus company. When negligence is a factor, it may be possible to file a personal injury claim. Doing so without a bus accident lawyer is not recommended and could leave you to losing excessive amounts of time and money, all the while feeling confused, upset, and even hopeless.

If you have been involved in a bus accident, please call Richard J. Banta, P.C. to explain what happened and get the information you may be looking for. 
Reasons for a Bus Accident to Happen
A bus accident can happen for many different reasons, including:
The driver of the bus

The driver of another car

The bus company

Poor road conditions

Objects in the road

Poor weather conditions

Speeding 

Reckless driving

Illegal turns or lane changes

Aggressive driving

Falling asleep at the wheel

Talking on a phone

Distracted driving

Improper training

Blind spots

Driving under the influence of drugs or alcohol
It is also possible for the bus to experience a mechanical failure, such as a defective brake, tire blowout, or other defective part. Meanwhile, it is certainly possible for an injury to occur while exiting or entering the bus. Regardless of what happened, if you were injured on the bus, or while riding a bus, and it was not your fault, please call a bus accident lawyer. 
Liability in Bus Accident Cases

Buses can be privately operated, commercially ran, or part of the government – as in the case of public buses and school buses. All buses have a duty to protect the passengers, within reason, from any possible dangers or hazards. If a driver is driving negligently, and they cause an accident, they may be liable. Furthermore, the bus company, school district, or municipality could be liable by extension.

In the event of a passenger car be at fault, they may be liable. Just the same, a manufacturing company would likely be liable for a defective part. Because there could be many different parties responsible for the accident, it is recommended that you call a bus accident lawyer for help.

If you do have a valid claim, a bus accident lawyer will need to investigate what happened and determine who is liable. If, for example, the bus driver acted irresponsibly, and caused the accident, the lawyer will need to prove this beyond a reasonable doubt. Even if it seems obvious about a party being at-fault, it is not advisable to file a claim without the help of a legal advocate. This is especially true when the government or a large bus company is involved.

To speak with a transit bus accident lawyer in Denver, please call Richard J. Banta, P.C. today.