Motorcycle Accident Attorney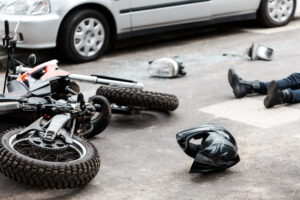 If you have recently been involved in a motorcycle accident, it's important to understand your rights.
While the recovery process from a motorcycle accident can be lengthy, an experienced motorcycle accident attorney from David & Philpot, P.L. can help make sure that you get the compensation you deserve after your accident.
Stay at the scene of the accident.
Even if you think it was your fault, or if there are no other vehicles involved, never leave the scene of a motorcycle accident. It's in your best interest to stay and contact law enforcement immediately, even if no one seems injured. Also, remember that traffic laws require that you stay at the scene of an accident to exchange information with other drivers involved and/or render aid to injured parties.
Document the Accident
After your accident, document all of your injuries and what happened leading up to the incident. This is especially true if you have existing injuries or conditions that have been aggravated by the accident. Sometimes juries will assume that since you are already injured, any new pain is just a continuation of the old condition.
Collect information from others involved in the accident: name, driver's license number, phone number, insurance information, vehicle make/model/year/license plate number, etc. The more information you have about the other parties involved in the accident, the easier it will be for your motorcycle accident attorney from David & Philpot, P.L., or insurance company to get in touch with them for more details about the accident.
Report the accident to law enforcement.
If you are involved in a major motorcycle accident, the first thing you need to do is call the police. The police will come and file a crash report and ticket anyone who is found to be at fault for the accident. It is important that this be done as soon as possible because memories fade quickly and evidence can be lost forever.
The police will interview any witnesses and determine who is at fault in the collision. They'll also provide you with a copy of their report which will be useful when filing a claim with insurance companies later on.
Seek Medical Attention
After a motorcycle accident, it may not seem like there is any serious damage done to your body but that may not be the case. Motorcycle accidents often cause serious internal injuries even if there is no visible external damage to your body.
It is always best to seek medical attention after an accident because some injuries don't become apparent until days or weeks later. In addition, waiting too long to seek medical attention will make it harder for your motorcycle accident attorney to prove that your injuries were caused by the accident.
Contact an experienced motorcycle attorney as soon as possible.
Because of the immediate and long-lasting physical, mental, and emotional disabilities that a motorcycle accident can cause, it is important to get to know what legal options you have. If you or someone you love has been injured in a motorcycle accident, it could be vital for you to contact a motorcycle accident attorney from David & Philpot, P.L. as soon as possible.