What You Need to Know After an Accident-Related Whiplash Injury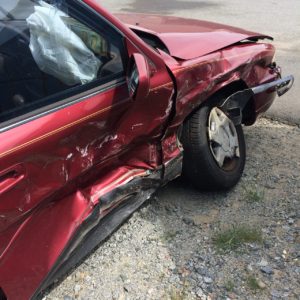 Whiplash is one of the most common types of motor vehicle injuries in Lakewood, Colorado. However, many victims are overwhelmed after an accident-related injury and are unsure how to go about filing a whiplash injury claim. At The Law Office Of Richard J. Banta, P.C., our car crash lawyers in Lakewood, CO understand what a whiplash injury is, the impact it can have on your health, and how you should go about seeking the full compensation you need to recover your health and financial expenditure from the injury.
If you've suffered a whiplash injury in an accident that was not your fault, please call a car accident lawyer in Lakewood, CO today.
How Do You Know If You Have Whiplash?
Whiplash involves an injurious neck strain or sprain that occurs when a motorist's head is jerked forward or backward by the impact of a motor vehicle collision. Hundreds of thousands of automobile drivers and passengers sustain whiplash injuries yearly. Whiplash injuries represent up to a third of insurance injury claims, according to the Insurance Institute for Highway Safety (IIHS). In addition to harming the muscles and tendons in the neck, severe cases of whiplash can involve damage to intervertebral discs, rupture and tear ligaments, and fracture the spinal vertebrae. Whiplash can even result in permanent nerve damage. As an experienced car crash lawyer in Lakewood, CO, we have handled a broad range of whiplash cases; some of which have involved serious whiplash injury. Please call us today to find out how we may be able to help you.
Anytime you are involved in a motor vehicle, bicycle, or pedestrian accident, you should get a medical evaluation to rule out potential injuries. According to medical experts, the symptoms of whiplash often take hours or even days to appear. Plus, the effects may last months after your initial accident. Signs and symptoms of whiplash may include:
Neck, arm, shoulder, or back pain that worsens with movement

Stiffness that increases with movement

Lost range of motion in the neck, shoulders, or arms

Frequent headaches

Dizziness

Fatigue

Tingling or numbness in the fingers and hands

Blurred vision

Ringing in the ears 
Additionally, delayed symptoms of severe whiplash injuries can involve problems with cognition, memory, and concentration, sleep disturbances, and mood disorders such as depression and anxiety. As a leading car accident lawyer Lakewood, CO trusts, we know that many people believe that they cannot file claims for whiplash. This is not true, so please do not hesitate in calling a Lakewood, CO car crash lawyer for advice and information.
Filing a Whiplash Personal Injury Claim
To get the compensation you deserve through a whiplash personal injury claim, you will likely need to provide medical documentation as supporting evidence. These may include the emergency room, doctor, hospital, and medical specialist records outlining your symptoms. It can be advantageous to provide documentation of:
Diagnostic testing results

Treatments provided 

Discharge instructions regarding follow-up care

Any bills you have received in regard to the injury

Receipts for prescription medicines and over-the-counter medications

Statements from your doctor and other medical providers
Your doctor and medical providers will need to supply you with documents outlining the nature of your injury, treatment recommendations, and your recovery prognosis. If your injury results in permanent damage, your medical professionals will need to describe the types of care you will most likely require in the future.
Whiplash claims and investigations can take time to resolve, and the actions you take during this time could have both positive and negative effects on your case. The experienced car crash lawyers in Lakewood, CO, at The Law Office Of Richard J. Banta, P.C., can provide compassionate guidance and professional legal representation. Call or contact us online today for more information or a free consultation.