Denver Bus Accident Attorney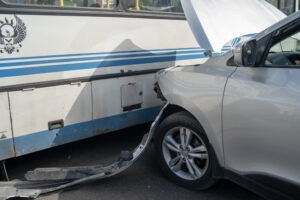 When you or a loved one has been injured in a bus accident, a leading Denver bus accident attorney, such as [Richard J. Banta should be consulted as soon as possible. For a consultation, call the Law Office of Richard J. Banta, P.C.
According to the Federal Safety Administration, there are over 183 bus accidents each day in the United States; or about 67,000 incidents per year. These collisions cause an untold number of suffering to victims and their loved ones, as well as immaculate property damage. In some cases, Colorado laws may enable the victims to recover damages for any related losses. This may include all medical costs, loss of income, pain and suffering, property damage, and loss of the quality of life. If you have been injured in a bus accident, please call a bus accident lawyer Denver, CO respects now. 
For years, our legal team have been representing the rights of injured bus accident victims. We know that these kinds of cases tend to involve unique circumstances that may require due diligence and thorough investigation. Many of these incidents involve multiple parties, or entities, and some include government municipalities. Factors like these may need to adhere to a special set of rules and very short deadlines. Finally, large insurance and legal firms may be representing the defendant. It may be in your best interest to have a leading Denver bus accident lawyer on your side. 
Please don't delay in calling our firm to explore your legal options and rights. We are available to hear your case now. 
Injuries that May Result from a Bus Accident
When a bus accident happens, there are often many victims who have sustained serious injuries. This is partly due to the lack of seatbelts and safety features found in modern cars. Furthermore, buses are heavy and large. The force involved when striking anything smaller can be significant. Because of this, as well as the injuries sustained, many bus accident attorneys in Denver will tell you that these cases tend to be worth six or seven figures. 
It is important to keep in mind that when there are large amounts of money at stake, insurance companies, and anyone else who may be liable, are more likely to fight the case. Therefore, it is important to retain a Denver bus accident attorney who has handled these kinds of cases. If you are any of the following injured parties, please call our firm:
Passengers of the bus

Other vehicle motorists

Bicyclists

Pedestrians

The owners of property
Public Bus Accidents
The Denver bus system is still growing; however, accidents do happen. A collision on a Denver city or regional bus can throw riders on the interior surfaces of the bus, into one another, or eject the passengers from the bus. These city buses often operate on narrow roads and alongside heavy traffic. City bus drivers may also be susceptible to fatigue as they can be overworked. Public buses can be operated by the city or state agencies; thus, there may be special laws that govern these claims. 
Regardless of what kind of bus you were on, or what happened, please call a Denver bus accident attorney to explore your legal options. Call the Law Office of Richard J. Banta, P.C.