The Personal Injury Claim Process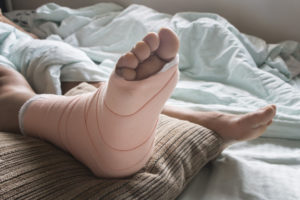 A Denver CO negligence lawyer such as Richard J. Banta, P.C. from the Law Office of Richard J. Banta, P.C. can help you
recover damages after an accident from whomever is responsible. After consulting a
negligence lawyer in Denver, you can learn more about your legal options. Below is an
overview of the steps you can expect to take as you progress through a personal injury
claim.
STEP 1: Consulting a Denver CO Negligence Lawyer
Personal injury law is not based on codified statutes; it is mostly built on court rulings. This
can make it difficult to navigate the legal process without prior experience in personal injury
law. During your initial consultation, your attorney will ask you questions about the specifics
of your case. Richard J. Banta, P.C. can also give you an overview of your best legal options.
However, you must hire an attorney before he can work on your case.
STEP 2: Preparing the Proper Documents
Once your Denver CO negligence lawyer agrees to handle your case, they will begin to help
you gather all the necessary documentation. They can also help you collect important
medical records and other evidence that details your injury and the severity of the financial
damages you incurred in treating it. They can also help you prove the liability of the at-fault
party.
STEP 3: Discovery and Further Evidence Gathering
The discovery process allows both the prosecution and defense teams to ask questions to
get to the facts of the situation. They will ask questions to determine liability, the treatment of
your injury, and many other details. When working with an experienced Denver negligence
lawyer Colorado such as Richard J. Banta, P.C., you will understand how the nature of your
case will dictate the discovery process.
STEP 4: Resolution or Settlement
Most personal injury cases never make it to court. More often than not, the attorneys will
come to an agreement about a settlement amount, usually offered by the insurance company
of the liable party. If the settlement offer is not fair, or if the insurance company denies your
claim, a negligence lawyer Denver CO offers may advise that you pursue a lawsuit.
STEP 5: Collecting Damages
If your attorney can negotiate a settlement, part of the agreement will include how you will
receive the compensation from the insurance company. Some insurance companies pay a
lump sum and others opt for a payment plan.
If you do pursue a lawsuit and lose, you may still file to appeal a decision. No case is the
same and no outcome is guaranteed.
Personal Injuries: Don't Suffer in Silence
Whether you were the victim of an accident involving a motor vehicle, faulty product, animal
bite, or a slip and fall, we're here to serve as your personal injury lawyer so you receive the
compensation you're entitled to under Colorado law. Personal injury laws are complex, so
having a legal professional working for you is the best way to protect your rights and move
your case forward in the most efficient and favorable way possible. If you've been hurt
because of someone else's reckless behavior or negligence, you shouldn't have to suffer
financially in addition to whatever you're enduring physically. As a personal injury victim,
you might be entitled to receive compensation for the following:
● Your medical bills and expenses
● Damage to your property
● Wages you lost because of missed work
● Your suffering and pain
● Any loss of life enjoyment
● Loss of limb or other physical impairments
● Other damages you incurred as a result of the injury
We represent clients who were hit by a car or a bus while driving or who were injured riding a
bicycle or motorcycle or were simply walking down the street. We help those who were
injured because of the negligence of another party or because of a defective or poorly
designed product. Whatever happened to you, we will fight to hold the responsible parties
accountable for their actions so that you receive the compensation that you and your family
deserve today and into the future. At the Law Office of Richard J. Banta, P.C., a personal
injury lawyer can evaluate your case from both the long-term and short-term perspectives to
help you achieve the maximum favorable physical and financial results.
Proving Fault in a Negligence Case
If you have suffered as a result of someone else's negligence, you may be entitled to compensation.
Generally speaking, individuals, businesses and other legal entities may be held liable for their negligent
behavior if they have a legal duty of care to someone and in neglecting that duty, they cause that
individual harm.
If you have been injured as a result of another's negligence, it is imperative that you seek the counsel of
a competent Denver, Colorado negligence lawyer as soon as possible. The law firm of Richard Banta,
P.C. is here to help. Once our legal team understands your specific circumstances, we can help
you to explore your legal options accordingly.
Proving fault is paramount to making your case. There are four main elements that must generally be
proven by a Denver, CO negligence lawyer in order to better ensure the success of a claim.
1. Duty – The defendant had a duty of care to reasonably protect the rights or person of another.
It is necessary to establish a relationship of care between the defendant and the plaintiff.
2. Breach – A defendant breached that duty of care. One example involves a doctor who does not
provide adequate care for a patient. A further example could be if a person knows their dog is
aggressive and takes the dog in public and the dog then hurts someone.
3. Causation – This means that the defendant's actions or inactions directly caused harm to the
plaintiff.
4. Damages – A Denver, CO negligence lawyer must be able to prove damages as a result of the
above three elements. Damages can include, property, physical, financial, emotional, etc. The
person or entity who caused the damages is generally held responsible for these losses.
If you have been harmed as a result of the negligence of another person, contact a Denver, CO
negligence lawyer as soon as possible. Protect your rights by refraining from negotiating with the
other party and/or their insurance company by yourself. Do seek witnesses and keep impeccable
records of any damages you incur to your property or person, or losses you incur due to loss of
work, medical bills, etc. Once you speak with an attorney, you will be able to make an informed
decision about your legal situation moving forward.
Criminal Defense: We're Here for You
Being charged with any crime in Colorado is a serious matter. Being convicted of even a petty
offense can mean jail time and fines of hundreds of dollars. Once you have a criminal conviction on
your record, the consequences can be very serious and last a lifetime. Not only could you find
yourself owing the state a large sum of money, you might even lose your freedom, and the effects of
that on you and your family can be catastrophic. If you've been charged with a crime in Colorado,
you need a skilled criminal defense lawyer with a proven track record in your corner. Founded in
1984, the Law Office of Richard J. Banta, P.C. has more than three decades of experience
representing individuals and businesses charged in state and federal court with crimes. We will
leverage our knowledge and proven abilities for your defense. If you've been charged with a crime,
don't wait to ask for help. Your financial security and freedom may be at stake. It is essential that you
receive the best defense possible. We will make your case our priority so you can make your life
your priority. Our client-focused approach is one factor that sets us apart from other law firms.
Contact us today by calling 303-331-3415 to get the expert representation you deserve.
Ready to Begin?
Dealing with insurance companies and court processes can be overwhelming, especially if you are
out of work and struggling financially. You may be hesitant to contact an attorney because of the
cost, but you will not have to pay unless you win a settlement. Richard J. Banta, P.C. works on a
contingency basis. This means he will take a portion of the settlement as their payment rather than
taking a fee up front. If he does not win your case, you will not have to pay. Call 303-331-3415 for a
free consultation with a Denver CO negligence lawyer from Law Office of Richard J. Banta, P.C.
today.