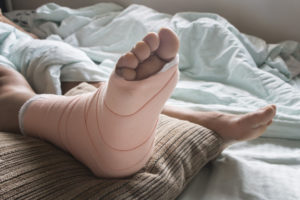 Slip and Fall Lawyer in Denver, CO
If you have slipped and fallen at a gym and are suffering from injuries that you believe could have been avoided, you should call a Slip and Fall Lawyer in Denver, CO from The Law Firm of Richard J. Banta, P.C. We can discuss what happened and whether or not you may be able to recover compensation.
Slipping and Falling at a Gym
Most gyms, fitness centers, and health clubs require membership. Before anyone can join, the facility will likely require a signature on a waiver of liability. These waivers are meant to deter a member from filing a claim or lawsuit in the event they are injured because of liability. Our team of Denver, CO Slip and Fall Lawyers have handled a number of claims involving gyms and fitness-related injuries and accidents.
Many of our clients believed they would not be able to sue the gym because they signed the waiver. As a premises liability lawyer in Denver, CO we know the court has dismissed these waivers in the past; thereby, setting a precedence for future legal claims. If the gym could have prevented your slip and fall, but failed in trying to do so, you should call us right away.
Challenging a Gym Liability Waiver
When an accident occurs on another party's property or business, they could be held liable if unreasonable measures were not taken to avoid an accident. A majority of gyms and fitness centers will use waivers as leverage against their members, customers, or visitors who have a valid claim. It is possible to challenge against the use of liability waivers; however, you should not do so without a Denver Slip and Fall Lawyer in CO. Depending on how the waiver is worded, the court will decide on whether or not to uphold its validity.
What Could A Gym Be Liable For
As your CO Slip and Fall Lawyer at The Law Firm of Richard J. Banta, P.C. may tell you during a consultation, there are many elements that a gym could be held liable for; some of them including:
Failure to provide a clean, sanitary environment.
Failure to clean up excessive clutter.
Failure to warn or ask customers to return equipment to the right location.
Failure to maintain the machines.
Keeping machines too close to one another.
Failure to warn visitors and members of potential hazards.
Have You Slipped and Fallen at a Gym?
As a Colorado Slip and Fall Lawyer, one of the greatest mistakes our firm has noticed is when victims fail to ask a lawyer for his or her opinion after an accident. In the case of gym accidents, many people think they're unable to pursue any type of claim because they have signed a waiver. This may or may not be true; however, nothing should be assumed until you've spoken with a legal professional.
Slip and fall accidents can result in many injuries, including head injuries, broken bones, and torn muscle tissue. This can render you unable to work or enjoy daily activities, and you might be in significant amounts of pain. Contact a Slip and Fall Lawyer in Denver, Colorado at The Law Firm of Richard J. Banta, P.C. to learn more about filing an injury claim for an accident that happened at a gym.