Burn Injury Lawyer in Denver, Colorado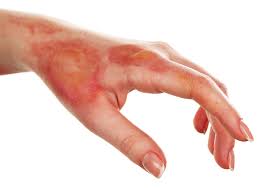 Long-Term Effects of Burn Injuries
If you suffered burn injuries in a vehicle collision or other accident, you may suffer many long-term effects.  If you're dealing with a third-degree burn, for example, you may have to stay in the hospital for weeks or months and have multiple surgeries. Doctors will first remove the dead skin from the burned areas of the body. They will then use skin grafts from uninjured parts of the body to cover the burned areas. While this treatment is effective, it carries risks, such as bleeding, loss of sensation and infection.
Even after you've had treatments for your burns, you may likely still experience pain and have difficulty doing your regular activities. You may also experience swelling and severe itching as the injury heals.
 What Are Burns?
Burns are a common household injury, especially among children and older adults. The meaning of the word "burn" is not just that you have burned yourself, but also the skin damage that occurs—and can occur on multiple levels.
Not all burns are serious, but there are some that require serious attention from medical professionals.
When talking about burns, we have to talk about burn levels. There are three primary types, first-, second- and third-degree burns. These degree levels are based on the severity of the damage to the skin. First-degree is the least serious with third-degree being the most serious.
First-degree burns are often red skin, a bit of pain but there are no blisters. You can treat these easily at home by yourself. However, you should see a doctor if your burn takes up more than three inches of your skin, is on your face, or affects the following joints:
Knees,

Ankles,

Feet,

Spine,

Shoulder,

Elbow,

Forearm
 Some easy treatment for first-degree burns is soaking the wound in cool water, taking an anti-inflammatory painkiller, applying aloe vera and other home remedies. Do not use ice because this has the ability to make the damage to your skin worse.
Second-degree burns are blistered, reddening and thickening skin. You may require a cream or another prescription from your physician for this type of burn, but it can also be treated at home. These burns are considered a bit more serious than first-degree because of the blisters. Some blisters pop, and can scab over and require care. In some rare cases you may require a skin graft to repair the damaged area where there was a blister.
If these burns affect the following areas listed below, you should see a physician regardless of the severity:
Face,

Hands,

Buttocks,

Groin,

Feet
Third-degree burns are widespread in thickness with a white or leathered appearance, these are often the most serious, and you may not feel that you have been burned when experiencing these sorts of burns.  Third-degree burns can be charred in color, dark brown, waxy and white in color, leathery with a textured surface, or they can appear as blisters that do not develop. Do not treat a third-degree burn on your own, without surgery these wounds are going to heal poorly and cause you more pain in the future.
The final type of burns are fourth-degree burns, which is when you have a third-degree burn that extends beyond the skin, affecting tendons and bones, or exposing said tendons and bones. The type of burn isn't based on the cause of the burn, in fact something as simple as scalding yourself can cause all three types of burns, it depends on how hot the liquid is and what kind of liquid you scald yourself with.
Burns that are caused by electrical malfunctions or chemicals require medical attention regardless of the severity, because these types of burns can affect the interior organs of the body, not just the outside skin.
 Other effects of burn injuries include:
Overheating:

A

burn injury lawyer in Denver, CO

has seen many burn victims struggle with overheating. Severe burns can destroy sweat glands, so burn victims may struggle in hot and humid climates. They may also avoid strenuous exercise to prevent overheating.

Dry and Cracked Skin:

The skin's sebaceous glands can get destroyed by severe burns, so victims may deal with dry and cracked skin. This not only looks unsightly, but it can also be painful. It's important to apply a thick lotion daily to keep the tissue moist.

Psychological Impacts:

Burn injuries don't just result in physical effects. They can also lead to many psychological effects that will last a long time. Burn victims may experience post-traumatic stress after experiencing such a traumatic event. They may feel depressed and anxious and isolate themselves from other people. It's important for burn victims to seek psychological help to heal from their emotional wounds.
When Burn Injuries Result from Negligence
Unfortunately, many burn injuries are caused by another person's carelessness. Here are some common causes of burn injuries a burn injury lawyer in Denver, CO sees:
Car Accidents:

When two vehicles collide into each other during an accident, one can catch on fire. This can put anyone involved in the accident at risk of serious burn injuries.

Electrical Burns:

These burns can result from numerous situations, such as faulty wiring in the home or construction site, and lead to internal and external damage to the victim.

Chemical Burns:

As a burn injury lawyer in Denver, CO can confirm, people can suffer chemical burns if they work with chemicals on their job.
Why You Should Hire a Burn Injury Lawyer
If you suffered burns because of another person's negligence, you have the right to file a lawsuit. However, you shouldn't do this without the help of a burn injury lawyer Denver, CO residents trust. Here are a few benefits of hiring a lawyer.
Prove That Your Burn Injury Resulted from Negligence:

If you intend to receive compensation for your burn injury, you have to prove that another person or party was negligent. However, this isn't easy to do. That is why it is so important to have an experienced burn injury lawyer on your side. He or she has handled similar cases in the past and knows exactly what kind of proof you need. For instance, if you suffered burns in a truck accident caused by a fatigued truck driver, your lawyer may request the driver's log book.
Improve Your Chances of Receiving Fair Compensation:

Burn injuries can result in ongoing healthcare costs. You may not even know when you can return to work. All of this can add to your stress. If you have a skilled burn injury lawyer on your side, you have a better chance of receiving fair compensation. He or she will negotiate with the negligent party's insurance company and won't let them take advantage of you.
Take Your Case to Trial:

It is true that the majority of burn injury cases get settled out of the courtroom. However, there is still a chance that your case could go to trial. If the insurance company for example, is refusing to offer a fair settlement, it may be more beneficial to go to court. That is why you need to work with an experienced burn injury lawyer in Denver, CO. He or she will present a strong argument in front of the jury and improve your chances of winning. You will feel more comfortable walking into a courtroom with a confident lawyer on your side.
Reduce Your Stress:

Suffering a burn injury is overwhelming in itself. If you have to handle a lawsuit on your own, it can make things even more stressful. You need to spend time recovering and taking good care of yourself. That's another reason why you should hire a burn injury lawyer in Denver, CO. He or she will gather the necessary evidence, speak to witnesses and give you a peace of mind.
 ASSESSING THE SEVERITY OF A BURN INJURY
A burn injury most often damages layers of skin. Deeper burn injuries may damage tissue(fat and muscle) or even bone. The severity of a burn is assessed by considering many factors:
Degree: depth of the burn.

Size: percentage of the skin that is burned

Age: of the injured person

Other factors include location of the burn on the body, inhalation of toxic gases or smoke, type of burn, other health issues (such as diabetes, heart problems, or alcoholism) or other traumatic injuries like bone fractures.
WHAT SHOULD BURN VICTIMS EXPECT?
The recovery process differs for everyone. Most patients report feeling pain, fatigue, and itching during recovery and rehabilitation.
Pain is common. Third degree burns are painful with deep pressure. Second degree burns are painful with air movement or changes in temperature. First degree burns are painful on the surface of the skin.

Fatigue is common. The more severe the injury, the greater the level of fatigue.

Itching is a common part of the healing process. Moisturizers and antihistamines can help make the burned areas less itchy. Patients should never scratch their wounds.
Burned areas can get infected at the time of the injury and during the healing process. To prevent infection, people with burn injuries should follow the treatment orders of their healthcare team. They should also follow the hospital's infection control guidelines, such as using gloves and gowns when recommended.
SEEKING COMPENSATION
When you have suffered a serious burn, you will need funds to cover the cost of your medical care. However, that can be difficult to do. You might not have the experience needed to calculate your damages. Fortunately, that is where a lawyer can step in.
They can help you find both the financial losses you have suffered, which include your medical expenses and care for your burns, and the intangible losses you have incurred. For example, a serious car injury can cause emotional distress that affects your life. Although it may not have a price tag attached, it should still be compensated.
Below are a few examples of the losses you might have suffered that your burn injury lawyer can help you with.
Lost income

Property damage

Hospital bills

Pain and suffering

Loss of enjoyment of life

Permanent disability and impairment

Wrongful death
WHEN WILL I RECEIVE MY COMPENSATION?
This is one of the top questions a burn injury plaintiff will have in his mind. Although there is no strict timeline for the same and the time may vary from case to case, various factors come into play while determining the time.
 Severity of injury and recovery: comprehensive medical reports are important to determine the extent of damage suffered.

Unclear liability: when there are multiple parties involved or the victim is partially at fault, then determining liability takes longer.

No cooperation from the insurance company: Many times, insurance companies do not process claims fairly in good faith and try to delay and derail the claims.

Negotiation and settlement: the parties including the victim, the at fault person and insurance company are unable to reach a settlement. The claim then has to go through a court process and the lawsuit can prolong the time.
If you have been injured and left with a burn, you are facing a traumatic experience that could affect the quality of your life. If you did not cause the accident that resulted in your burn, then you should not have to pay for the damages that result.
Fortunately, you will have a chance to recover compensation for your losses. A burn injury lawyer Denver, CO such as Richard Banta, P.C. can help you understand the claims process and work to get the compensation you deserve.
Electrical Burn Injuries. 
An electrical burn injury is triggered when an arc of electrical existing travels through the air or by means of a conductive gadget and gets in an individual's body. A burn injury lawyer Denver, CO such as Richard Banta, P.C. can help you.
When a person is available in contact with an electrical present, the transmission of energy travels from the source of power straight to the individual, causing an electrical burn. The burn injury is the outcome of heat created by the circulation of electricity through the victim's body.
In addition to severe burns, electrical currents can cause a victim to suffer cardiovascular disease, organ failure, or respiratory arrest.
If your burn injury resulted from the carelessness of another, you may be entitled to submit an injury lawsuit and get compensation for your medical expenses, lost earnings, and pain and suffering. Contact Richard Banta, P.C., today to learn more about burn injury lawyers in Denver, Colorado. 
Injuries Resulting From Electrical Burns
According to a study released by the United States Department of Labor, individuals are probably to receive an electrical burn injury to one or both of their hands, instead of any other part of the body. Hands are the most common entry point for an electrical current because individuals are normally working carefully with an electrical gadget when a mishap occurs.
There are a plethora of injuries an individual can sustain as a result of being stunned by electricity. While the most obvious is an electrical burn injury to the skin, in most cases, severe internal injuries can also take place.
Some serious internal injuries consist of:
Heart attack

Broken nerves

Coma or brain death

Muscle squandering due to nerve damage

Tissue damage

Internal bleeding

Uncontrolled twitches or spasms

Inability to breathe without medical help
In some instances, internal injuries are not immediately evident to either the victim or observers. However, if the injuries are left untreated, they can quickly result in death. With this in mind, emergency situation medical treatment should be administered as soon as possible to anybody who has actually been involved in an electrical burn situation.
Sources of Electrical Burn Injuries
There is capacity for an electrical burn injury to happen wherever live electricity is present. While lots of people assume an electrical gadget can not damage them if it is not being utilized, electrical currents are still flowing to the device if it is plugged into an outlet.
Therefore, it is very important to note that electronic appliances do not have to be switched on and running in order to perform adequate electrical energy to cause a burn or other injuries. If an electrical gadget comes in contact with water, it can likewise cause extreme shock and possibly deadly injuries.
Touching electrical devices with wet hands or feet is very harmful. Being wet with salty water after swimming in the ocean or perspiring heavily is especially unsafe, as salt water is a much better conductor of electrical power than freshwater. In the household, the restroom is one of the most likely places a damp person may be available in contact with electrical gadgets. For safety, power outlets in restrooms need to be positioned far from bathtubs, showers and sinks to dissuade the use of electronic devices close by.
Devices such as hair dryers, notebook computers or a charging mobile phone should never be used while being in a bathtub. Even battery-powered gadgets should be prevented, as they can generate adequate electrical voltage to be deadly.

Exposed electrical outlets, fallen power lines and sticking items into an electrical source can also add to serious burns or other injuries.
Fortunately, you will have a chance to recover compensation for your losses. A burn injury lawyer Denver, CO such as Richard Banta, P.C. can help you understand the claims process and work to get the compensation you deserve.